uPVC Window Processing Manual
This is a uPVC window processing manual part 6. This part mainly introduces corner cleaning. From this part, you will also learn how to clean the uPVC window door frame and sash.
After that welding, the welding surface will have a welding tumor.
To avoid the window function and beauty, we need to clean the corner.
For the casement window, the welding tumor will affect the leakproofness between the window frame and window sash.
For the sliding window, the welding tumor will affect the fixable sliding.
1. the below situation must clean the welding tumor
Firstly, the frame, sash, and division profile welding tumor which exposed outside must be cleaned. To avoid the beauty, leakproofness and relevant parts cooperation.
Secondly, The four sharp corners must be cleaned. To avoid the affection of window installation and assembling. Also, to avoid the beauty and harmful to arms during opening and closing.
Moreover, all the welding tumor which affect the beauty and sealing strip installation must be cleaned.
2. how to clean the welding tumor
There have different ways to do this job. Among all upvc window machines, normally we use the corner cleaning machines to do this.
There are several uPVC window cleaner as below:
3. corner cleaning parameter
After that cleaning, if the surface has a light slot, its depth must ≤0.3mm. outer vertical corner beveling (3-5)mm x45°
Firstly, it is better to clean welding tumor before the corner completely cooling.
At this moment, the profile inside the molecular structure tends to be stable and not completely harden.
And this neither affect welding corner intensity nor occur corner collapse phenomena.
Secondly, when using a CNC corner cleaning machine or manual cleaning machine, please ensure the blade in the right angle and sharp.
Moreover, when process the co-extruded profile, please do some change accordingly for the slot depth.
Meanwhile, during cleaning, prohibit leaving any lap on the component.
Check Below Relative Post
If you want to draw the beautiful windows and doors for your project in an easier way with a 3D view, quotation, and material manufacturing list.
please check our window door software below: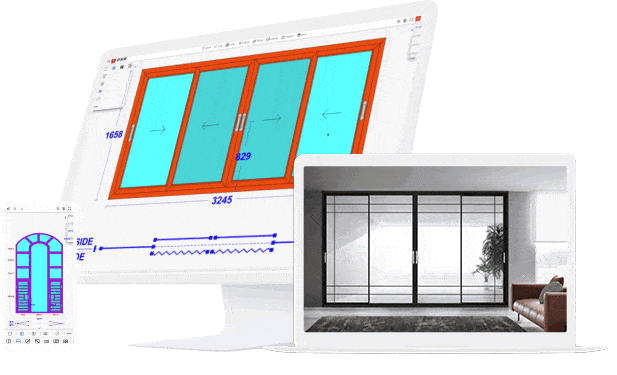 Our article your may intrested: