uPVC Window Machine Supplier
This is an article about how to find a good uPVC window machine supplier.
So if you want to know more knowledge about How to Find A Good uPVC Window Machine Supplier? You'll love this article.
Let's get started.
Nowadays with the development of modern society, more and more people start to enjoy our life in every aspect.
In-home living, the uPVC windows and doors have become more and more popular. Because it has a beautiful structure, is environment-friendly, and is energy-saving.
Because of the large quantity demands of uPVC windows, the uPVC window door machine also starts to boom.
uPVC window machine is also very important for making good quality windows.
Among all the uPVC window machine suppliers, how to find a good uPVC window machine vendor is also a very important aspect to help you win in uPVC window fields.
And from this article, you will know how to find a very good uPVC window machine manufacturer.
Also, to be honest, there are lots of uPVC window machine vendors in China. From large to small, accordingly the quality of the machines also from a high level to the lower level.
What are the main factors to find a good uPVC window machine manufacturer?
Nowadays machine price is also very transparent. which price equals which type of machines.
So when you buy machines, price is also an important factor to buy not the only one.
As a good uPVC window machine supplier we have our quality control team, make sure every product is good for you.
The main mechanical parts we use are more strong and thick. The spare parts are also more stable and have good performance.
We have good skilled and professional workers to assemble the best quality machine for you.
2. Services of uPVC Window Machine Supplier
We will give you complete solutions.
Firstly, we will according to your plan to make a project proposal for you. This project proposal will include the following items.
Firstly, the floor plan will let you know clearly how many square meters you may need for your factory, how many workers, how many machines, how to assign the space.
Secondly, the processing flow chart will help you easily understand the procedure. Give you a clear image of the procedure.
Thirdly, different kinds of window door designs will let you know that making this type window use which type uPVC profiles, how many profiles we should use, which type of hardware accessory will use, and how much will that cost.
Two types of packages will give you more choices to start your business. STANDARD OR SMALL packages according to your choice. One-stop services help you started easier.
Promotions are also included in the project proposal. It must be given you a very good discount.
We have our after-sale engineers. They have full overseas experience and will give you all-around services for installing and training.
We also insist that products and services will speak for themselves.
Customers can feel from every aspect all by themselves.
The customer will ask a lot of inquiries from many uPVC window machine suppliers. Why do most customers choose Moxisys?
I have asked lots of my customers about these questions. they tell me that they can feel that Moxisys use their heart to supply products and services. and what they supply is far beyond the machines' value.
Moxisys is a good uPVC window machine supplier looking forward cooperate with you in the near future.
Conclusion for Finding A Good uPVC Window Machine Supplier?
If you want to draw the beautiful windows and doors for your project in an easier way with a 3D view, quotation, and material manufacturing list.
please check our window door software below: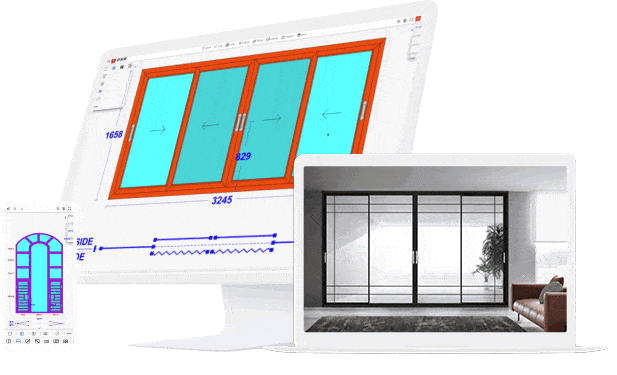 Our article your may intrested: